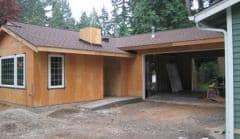 In recent years, we have increasingly performed projects for middle-aged couples with their parents in mind. Specifically, to encourage the older generation to move in with the younger one.
In most cases, the best solution for this growing demand is to build an Accessory Dwelling Unit (ADU) attached to the single family residence.
ADU's generally incorporate universal design elements which make it manageable to navigate through a comfortable living area, functional kitchenette, one or two bedrooms and a full bath. Lesser costly options would be to convert an existing office or garage bay to a bedroom, or reconfigure the existing main floor in some other way.
This interview from 2011 followed a few months of post-construction enjoyment by its occupant.
Cost analysis:
Assisted living cost (per year) = +/- $78,000
Approximate ADU cost (one time) = +/- $225,000
If parents are moving to their children's property, the ADU is a fantasitc way to transfer wealth from one generation to the next. Another popular way to finance the project is either with a mortgage, HELOC or reverse mortgage.  Contact your lender for the best solution to fit your needs.