Completion of whole house tour by invitation only.
February 8, 2008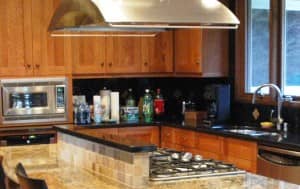 Two large additions were included in the expansion of this home.
Kitchen and living room extension toward the back of the home

Game room addition toward the left side
As a result, the entire lower floor was under construction, as was most of the exterior.
November 10, 2007
This farmhouse on Hollywood Hill was completely renovated from a "muddy" and dark '70's concoction to a revitalized country kitchen, living room, dining room, guest bath and garage addition.
Showcase event by invitation only.