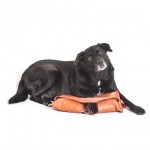 Anabelle chose Mike and Traci Tenhulzen when she was just 6 weeks old in 2006. After spending nearly a year in training, her attention was eclipsed by the birth of a little boy.
Her favorite activities include donning her backpack for a long hike, and chasing a tennis ball in the water. When walked, she will find the most private and discriminant place to do her business.
If you are fortunate enough to see her smile, she obviously likes you. If you are allergic to pet dander, please let us know in advance so she can be kept in the back office.
Ask Anabelle if she knows any tricks when accessing her treat jar.