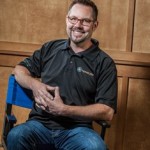 Owning his own remodeling business provided Rob the experience necessary to manage people and processes. His open and honest communication style is firm but fair, tending to leave little room for misinterpretation.
If there's something Rob is not completely familiar with, he'll either find out himself or find someone else who does. When not in the office, Rob can be found coaching his staff in the field to continually improve the performance of each production, or coaching a local soccer team.
Responsible for the details of every production, a lot of information crosses his desk on a daily basis.
425-990-6530 | rob@tenhulzen.com
Ask Rob about growing up in New Orleans and secret family recipies.