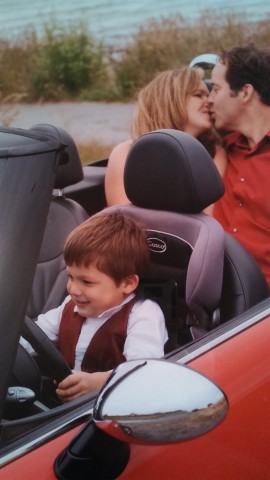 Valentine's Day marks a special time of year. Nestled between the chaos of the holidays and the stress of tax filing, St. Valentine forces us to focus on caring for the people whom we love most.
This holiday means something different for everyone. For most, it's a time to reconnect with significant others in a way that no other event can. For retailers, it's a time for preying on the unfulfilled romantics who pay annual homage to rituals of roses, candles, champagne and jewelry. For me, it's all about creating positive lasting memories, regardless of tradition.
"One of the side effects of employing our company is the creation of positive lasting memories."
The photo chosen for this holiday article was taken 4 years ago. The only thing that has changed is that now the driver can almost reach the pedals. We create moments like this throughout the year. Some we share, but most we keep to ourselves. The power of intimate family time builds trust, empathy and understanding.
We bring our family values to our business: creating relationships built on trust, empathy and understanding. After all, our customers don't simply choose to do business with our company. They choose us as individuals because they know we will be an intimate part of the renovation process to their home.
Happy Valentine's Day to all of our past, current and prospective customers from the Tenhulzen family.