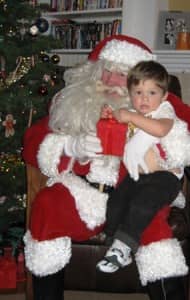 Happy Holidays! Not sure where your kids fit on Santa's list? Check to see if they have been naughty or nice. Would they like a personalized message from Santa Claus?
Each year, a very special jolly bearded man in a red suit visits our house to spread cheer with his reindeer bells, songs and presents. My favorite part is experiencing it through the eyes of my son….especially when he is excited about it!
All the best to you and yours this holiday season. Merry Christmas and Happy Hanukkah.