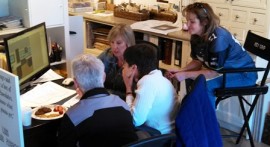 Mixing it up:
Most meetings are held in our conference room.
Meeting at the designer's desk allows for on-the-fly changes with Chief Architect design software. Floor plans are easily converted to 3-dimensional perspectives to help visualize position and scale.
Our magnetic whiteboard has a projector for an enhanced experience of our interactive design process.