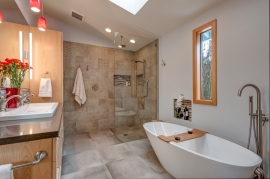 This master bath renovation won the national Chrysalis Awards in 2017 for 'Bath Remodel $50,000 – $75,000'.  Designed by Ronda Lane and produced by Cary Longmire, this project significantly enhanced this 1970's Redmond home.  Description of the award entry is as follows: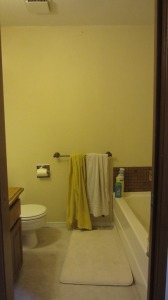 Scope: The homeowners desired a complementary bath and privacy in their master bedroom.  The vision was to create a 5-piece low-maintenance contemporary suite with grey tones, utilization of space and increased natural light.  Secondary goals included operable skylights, dry sauna, heated flooring and closet system.  The design process began June 22, 2015 with a budget of $50,000 and evolving to a budget of $74,258 at the start of construction October 16th and completing construction on February 5th, 2016.
Challenges: The open European concept with floating vanity, a curb less and open shower, room for a free-standing tub and a sauna.  The house was out of square and level significantly enough to require self-leveling flooring and wall shims to ensure plumb mirror reflections and doorways.
Results: The new plan transformed an awkward space into a beautiful master suite –    improving form, function, storage, and offering a private bath entrance.  A frosted glass sliding barn door separates the bedroom from the bath and allows for added privacy.  An elegant free standing tub, complete with a solid oak bath tray, welcomes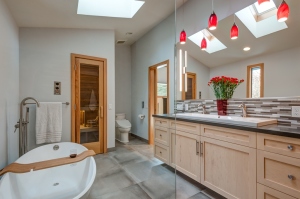 the homeowners and encourages relaxation.  Warm grey tones along with crisp whites are included throughout, with the use of large format floor and wall tile, mosaic accent tile at shower and tub niches, and the vanity backsplash.  The dry sauna and heated flooring bring a warm comfort to the space, and the new floating vanity with a single trough sink and double faucets provide a clean aesthetic as well as an increase in function for the homeowners.