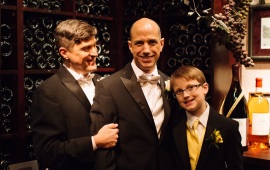 May, 2017
When it comes to updating your home, there are two ways to approach the design: either prep your home for sale, or customize it to fit your needs. Customers like Curtis and Steven Johnson-Meyers tend to want to create personalized spaces, so we ask permission to get to know them on a deeper level to ensure the long-term enjoyment of their home.
The master bathroom tends to be the most private room of the house and therefore the most uncomfortable one to talk about. For a certified designer to create the best possible solution, a needs analysis begins with a series of questions identifying the needs vs. wants which can then be prioritized to align with the construction budget. Questions like "How often is the bathroom occupied at the same time?", "Would you prefer to keep hairdryers and electric toothbrushes plugged in while concealed?", "Do you want your toilet in its own room?" and "Will you be bathing together?"
This line of questioning often leads to a description of routines which paints the picture in the designer's mind how to perform the space planning phase of the design process. In the case of Steven and Curtis, it was quickly determined that visual aesthetics of the space was more important than ease of function for daily routines. "We are more about the way the finishes make us feel rather than the convenience of having everything right where we need it," reports Curtis, "if that means we hide the soap and shampoo shelf behind a half-wall in the shower, then that's where it goes. I'd rather see the tile pattern than an assortment of soaps and bottles."
This isn't to say that function is completely forgotten. Design standards are in place for things like where the light switches go and where to best place faucetry and shower controls. Even wheelchair accessibility can be designed to look and function just as naturally for the able-bodied. A truly trusted design professional becomes the greatest ally in making sure their customers' needs are met.
Physical limitations with existing structure and mechanical systems prove to be a challenge in nearly every project. For example, multiple shower heads require larger diameter pipes, and heated flooring and towel bars require additional circuits from a potentially limited electrical panel. A large bathtub may require additional structural support than the shower that once occupied its space. And in the case of the Johnson-Meyers family, it was impossible to get more closet space without sacrificing adjacent rooms, so it was sacrificed from the initial needs assessment.
Of course, what good is a design without consideration to the construction budget? Next month we'll explore the importance of budgeting.