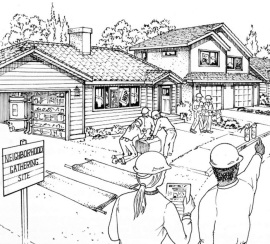 April 2018
Location, location, location. That's the Real Estate mantra – and there's a lot of truth to it. Where we choose to live says a lot about us. How we choose to live, defines our connectedness to those around us.
It's in our nature to live in proximity to one another. Ancient clans were stronger as they grew in numbers for protection, support and attaining resources. If you've ever used the phrase "it takes a village", you can relate to this notion. However, because it seems we spend more time at the office than at home, we tend to develop closer relationships with co-workers than with the families next door.
One of the questions I ask of prospective remodeling customers is "how often do you entertain?". The answer helps guide our design to best suit the unique solution to their needs. And it ranges from "not at all" to "we need a bigger driveway" with "our house is where all the neighborhood kids play" mixed in. What I've found fascinating is roughly two thirds of the respondents entertain primarily for guests outside their neighborhood. And the results of this response are interesting to note.
Statistically, car prowlers are ten times more likely to break into vehicles parked on the street than in a driveway. The probability increases three-fold during the holiday party season and vehicles with valuables in plain sight are at highest risk. Not to mention the liability of driving home after a few adult beverages. Neighborhood watch programs help to reduce the risk of mischievous activity, but a group of neighbors linked by text messaging can be a greater deterrent to would-be thieves than the police.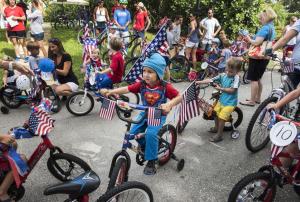 I live in a neighborhood with a dozen children born a few years apart. Within a couple years, a 'neighborhood clan' was formed by kids at play. Occasionally on a summer afternoon, small gathering of lawn chairs will organically evolve into a ten family potluck BBQ. 4th of July celebrations with organized events conclude with a head lamp-powered cleanup effort. Holiday cookie exchange, book club (AKA wine night), an annual Halloween party and a New Year's Eve progressive dinner, build camaraderie throughout the year.
This type of neighborhood connection doesn't just happen. It takes commitment and shared leadership. A great way to break the ice is to approach from a safety perspective. Following a severe winter storm in 2006, we introduced Map Your Neighborhood to our closest neighbors. Every year or two thereafter, we hosted a refresher which expanded to a larger radius of homes, including guest speakers from the police and fire departments. In the event of a major catastrophe, it may take several days for emergency services to respond. Today, some 20 homes within 300 yards are equipped and prepared to rely on each other with an emergency response plan. For more information, visit tenhulzen.com/community/MYN.