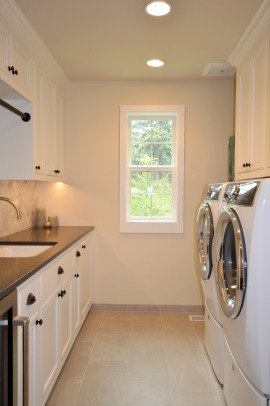 February 2018
Most 2-story homes are equipped with a laundry room on the main floor near the garage. Since the mid '90's it has been increasingly popular to move the laundry to the sleeping floor, which in most 2-story homes is the 2nd floor.
When Lisa and Leo LaBranche moved to a more desirable neighborhood, they discovered only 3 things their new home needed to truly reflect their family's lifestyle: an expanded kitchen, updated master bathroom and relocation of the laundry to the upper floor. Choosing to embark on the laundry project first gave them the opportunity to turn the existing laundry into a much needed mud room. During the design phase, consideration was given to integrate this phase with a future kitchen addition, eliminating the efforts to change any work that had already been done.
Planning for an upper floor laundry needs to primarily consider location for where the plumbing drain can tie into the existing drain system and where the machines can run without disturbing sleeping rooms. Other than that, providing the water, dedicated power and exhaust fan services are secondary. If an addition is required, then it should seamlessly integrate with the structure, suggesting that it was original to the house.
3D planning software enables the proposed changes to be viewed from any angle and lighting so that a framed mock-up of the addition can be viewed during the design phase. The addition for this project expanded the upper floor over existing living space, which lent itself to a natural structural alignment. And although it was a relatively costly improvement to the house, the results are worth it. "The best part about having my laundry upstairs," says Lisa "is the kids have no excuse for getting their dirty clothes when and where they need to be."
As part of the design, an under-counter refrigerator was placed to the left of the sink. Leo's ultimate goal is to expand the adjacent media room (note this is not on the aforementioned list). "I wanted a place for beverages and popcorn nearby so I didn't have to go downstairs in the middle of a movie or sporting event." As a Design/Build firm, we find it is important to make sure all ideas are considered and ample space found to make the form and function work with the intended use.
When asked what would be done differently, Lisa added "The biggest sacrifice is having to take muddy clothes from the mud room upstairs. But this pales in comparison to the dirty clothes, towels and bedding generated upstairs."