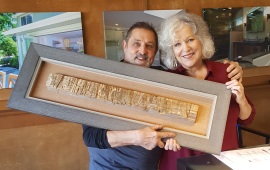 June 2018
When it comes to remodeling your home, our customers tend to focus on the art of the finished product, not the art of the elements found within the process. Artistic qualities can actually be found in the design phase, production scheduling, and even the execution of construction. Some remodeling customers capture the process through imagery, such as creating a scrapbook or detailed blog of the events. Most are simply fascinated with the seamless execution.
If you have an appreciation of art itself, you may find it where others do not.
Noel Schuurman has experienced 'going from apprehension to advocacy' with our company over the course of 3 separate renovations. After an award-winning kitchen remodel in 2007, we performed a master bathroom remodel in 2010, followed by some minor exterior improvements to freshen her Kirkland home for sale in 2017. The latest project in early 2018 was a series of kitchen, bath and living room improvements to her new Trilogy home east of Redmond. This is a story about the latest 'sequel' of service.
As Brett Wamboldt was cleaning up on the third day, his saw horses planted in the driveway amidst some wood scraps and a sprinkling of sawdust, Noel rolled up and stepped from her car. An exchange of brief pleasantries resulted in what would later be known as Brett's favorite customer gift. At her request, Brett left the pair of scarred 2×4's from the top of his saw horses for her, filled out his timecard and went home thinking nothing more of the exchange. Several weeks later, and prior to completion of the project, Noel scheduled a visit to our office during a production meeting, where Brett was presented with a limited edition '2 of 2' framed piece to adorn his living room.
Hanging horizontally in Noel's living room, she regards '1 of 2' as something more than just a neat-looking chunk of wood. Recognizing the skills developed over 30+ years as a carpenter, each cut represents the inherent pride in the workmanship Brett left in the numerous homes that are now appreciated by hundreds if not thousands of people.
No matter the size of the project, the art of remodeling can be found if you know how to look for it.