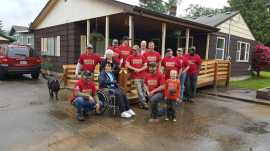 March 2018
As a builder, we make a living by turning the ordinary into the extraordinary. Enriching each home and its occupants on the average of forty times a year – year in and year out. We build unique solutions for unique needs and improve intrinsic values of homes in our community. And we love what we do.
So when it comes to volunteering our time in the community, there's no better joy than doing what we love for the fun of it, to enhance a public space, and better yet – to change the life of an individual in need.
For 25 years, the Tenhulzen crew has been responsible for providing permanent wheelchair ramps on 22 homes at no cost to home-bound members of our Eastside community. The annual event held each May is known as Rampathon. Started by the Remodelers Council at the Master Builders Association of King and Snohomish Counties, it has developed into a nationally recognized award-winning philanthropic endeavor. Throughout the year, applicants are vetted and paired with builder captains. The captains then assess the site, prepare the materials list and coordinate logistics for the 1-day build. Materials are donated by Dunn Lumber and its suppliers.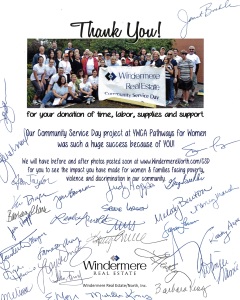 "We look forward to Rampathon every year because of the camaraderie that comes from our office and field staff creating something together," says Ronda Lane, Design Manager at Tenhulzen. "There's nothing like the emotional gratitude we get from the people who finally have mobility to and from their home." In many cases, it is the first sense of independence our ramp recipients have had since they became wheelchair bound. They are amazed at the resulting quality and seemingly effortless teamwork and often call neighbors and relatives to join in the celebration of the ramp's completion.
Whereas Rampathon is a company-wide annual event, Tenhulzen also provides support for other groups like Safe Place and YWCA facilities from Everett to Issaquah. Creating classrooms, sleeping rooms and permanent storage bins for at-risk women and youth has become something we are called on to help with on an as-needed basis. "Recipients are always amazed at our skills to create something they have spent months or years dreaming about," says Traci Tenhulzen. "The change we help them make for themselves is priceless."
Visit the community section on the Tenhulzen Residential website for more information, and some entertaining video content.