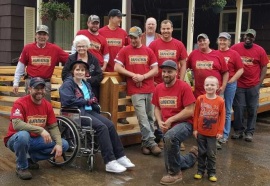 For 22 years, TR has been donating wheelchair ramps by volunteering a Saturday in May for the Master Builders Association event. This year's Ramp-A-Thon was completed May 21st, 2016 for a 49 year-old woman with MS at her home in Snoqualmie.
Thanks to our team captains Rob Pitre and Ryan McCurdy, this year's ramp recipient and her family have the freedom to access their home without assistance.
Our Facebook post reply:
This project was done for my sister Becky, you guys were AWESOME!!!! They were so amazing and this wheelchair ramp is just beautiful and has given Becky the mobility she desperately needed. She is feeling more independent already! Thank you so much for the volunteers from Tenhulzen for volunteering their time and talents for the Rampathon Project. We will appreciate this ramp for the rest of our lives. THANK YOU!!!!!!!!