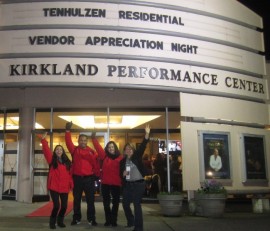 This idea began as a KPC auction purchase for use of the Kirkland Performance Center for an evening. After a few months of contemplating its best use, we decided to turn the theater into a party honoring those who support our efforts. As a result, over 150 vendors, trade contractors and associates attended our first Annual Vendor And Trade Awards Recognition (AVATAR) event hosted "in theatre" at the KPC on 1/9/15 (Facebook Album).
A the core of this event was a re-innovated corporate mission statement: "…turning apprehension into advocacy through performance." This is so critical because nearly every prospective customer is apprehensive about a spectrum of remodeling concerns. When we meet or exceed expectations, the potental is to create along list of customer advocates.
Stage presentations included the re-innovation of TR and our thematic approach to Design/Build remodeling. Guests were pre-registered to receive a backstage pass with access to beer, wine, appetizers and a lasagna dinner weaved into a 2-part awards presentation on stage.
Mac MacDonald emceed the event with a cast of presenters including Chris Ballard of The Ballard Agency, Dan Davidson with Principal Financial, Carol Didier of Summit Accounting and Ryan Gaylord of Localloop.
2014 AVATAR Winners: Tenhulzen Painting (Safety Award), Rosemary Photography (Memorable Moment), Sterling Electric (Reliable Service), Ronda Webb (Creative Solution), Cary Longmire (Customer Service), Dunn Lumber (Vendor of the Year), and Riley & Sons Drywall (Trade Contractor of the Year).