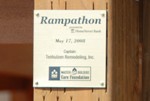 The MBA's longest-standing community event and Tenhulzen Remodeling has been a ramp captain virtually every year since the program began.
Rampathon has grown from 5 ramps in 1993 to over 30 ramps per year. Each May, TR staff volunteer a Saturday and part of Sunday, depending on the complexity of the ramp to give residents in our community who are confined to a wheelchair, uninhibited access to the outside world.
It is a most satisfying feeling to know you have provided access for someone who has had to rely on others to lift them up and down stairs.
2017 marks the 24th ramp TR has provided our community.