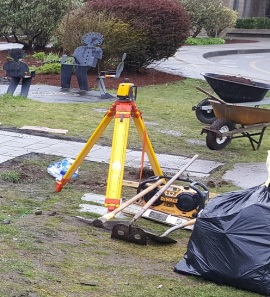 Dozens of volunteers descended on Woodmoor Elementary April 22nd to create a new walking path and flower beds. Among the volunteers were Michael and Matthew Tenhulzen, supplying laser level, excavation tools and the company truck, which was used to haul building materials and debris.
This 6-hour event was supported by the PTSA and administration to beautify the school entrance and enhance outdoor curriculum.
Volunteers included parents, students, school staff and Boeing employees. Over 2 tons of organic debris was removed from overgrown planer beds from roughly 200 labor hours on an overcast Saturday morning.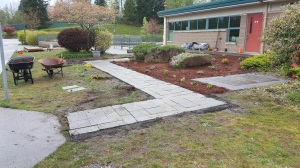 Sand and paver stones were delivered by the TR truck as the layout began taking form in the weedy grounds of the school's front drop-off area.  6 hours later, the paver stones were set and new plantings and beauty bark decorated the area.
Woodmoor Elementary is a Northshore District property in Bothell.
Special thanks to Elenetza Kontonasakis-Hall for organizing and executing this event.