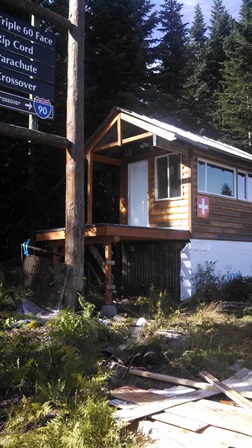 In early October of 2013, Michael and Traci performed their annual "work party" duties for Summit Central Ski Patrol. While Traci was cleaning and repairing the base building, Michael and a fellow patroller scaled the ski hill in our Chevy Avalanche to the top of the Tripple-60 lift to do some work on the bump shack.
Affectionately called "Heaven", this building allows patrollers and equipment to quickly respond to injuries on the hill. It is also commonly visited by skiers requesting assistance with equipment and navigation. The goal for this day's work: extend the roof over the deck to keep snow from piling up at the entry door.
Framing materials found on-site were arranged according to their dimensions and conditions. Pressure-treated materials included 2×6, 2×8 and 4×4. Plywood in 1/4″, 1/2″ and 3/4″ thickness was arranged to accommodate the new roof deck.
Aluminum roof panels were found under the building and prepped for fastening to existing. Ridge cap was extended to top the roofing, and a gutter was added to the trailing edge of the new roof to prevent melted snow and ice from dropping on the primary access route.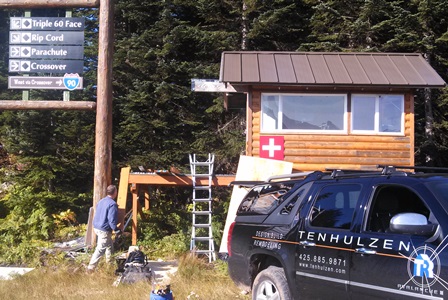 We are pleased to have improved "Heaven" and look forward to a safe and enjoyable ski season. Volunteering for Ski Patrol provides us the skills and training necessary for stabilizing and transporting injured skiers to definitive care.
In 2011, Traci responded to a shoulder injury that ironically was a current remodeling client. Their most memorable comment during the process was "I hope this doesn't cost more than our remodel."
Interested in becoming a volunteer patroller? Submit your inquiry to the SASSP.