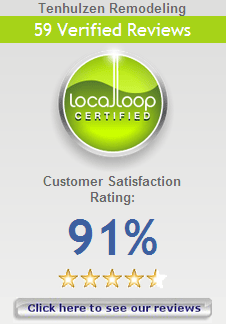 Last summer, TR received a bad review on Yelp from someone who is not even a customer. The complaint was about how vehicles were parked at a construction site. As with most consumer-based research sites, there is no way to resolve a dispute before it is publicly posted.
Alternatively, we welcomed a ridiculous complaint on our Localloop profile page. The initial comment and response were subsequently posted on our Facebook page. Dispute resolution is just one of the benefits Localloop offers its certified businesses to make homeowners accountable to their unscrupulous online reviews.
It's all about accountability between the service provider and the customer. Localloop.com requires an 80% or better customer satisfaction rating to maintain "certified" status – meaning that all certified business in Localloop are vetted by interviewing actual customers.
Tenhulzen Residential is built on Creativity, Professionalism, Integrity and Trust. One of our goals for 2013 is to include our trade partners in the Localloop Certification process.
When it comes to performance, we're only as good as our vendors and subcontractors.
"How It Works" [2:00]