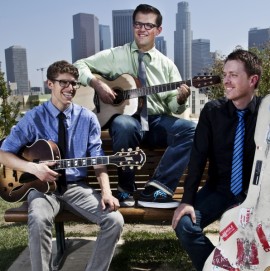 "The Kirk" is a new venue open to for a VIP experience at the Kirkland Performance Center. Once a storage room, the Board authorized its use for pre-performance gatherings. It now consists of a bar, several standing tables, customizable LED lighting and monitors with input jack for your favorite music.
Tenhulzen Residential customers were excited to be included in this new space for the New West Guitar Group show on 2/21/15. Arriving at 7:15 for an 8PM show, we gathered in the Kirk for manhattans and cosmos. Everything was set up when we arrived. Nate was excellent with ushering us in, mixing drinks, and prepping us for getting back to our seats.
We noticed some curiosity about our martini glasses and stage left disappearing act. The band came down during intermission, which was an unexpected treat for my guests who were blown away by the performance. Board member Kevin Harrang and his foursome was invited to join us at intermission.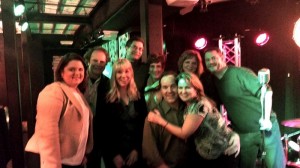 This group photo was taken after the show in the swanky private party room that comfortably hosts up to 30. We ended the evening around 10:30 with everyone thoroughly enjoying their unique experience.
Special thanks to the staff of the Kirkland Performance Center for making this space available to sponsors, donors and special guests.
Intersted in hosting a party at "The Kirk"? Contact the box office at KPCenter.org.