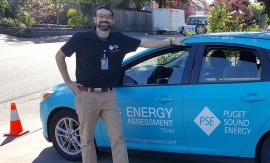 If you have ever wondered how efficient your home is in comparison to the average statistical data, you should schedule an appointment with one of their professional energy advisors.  During the visit, the technician will inspect the crawlspace, attic, windows, appliances and faucets.
The report you receive details the recommendations to reduce your energy usage for heating your home and water. Building codes are driving the energy efficiency of new homes and renovations by incentivizing 96% efficient furnaces with windows of a 0.28 U-Value.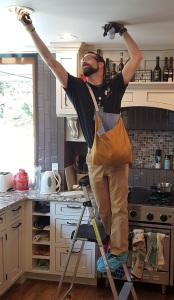 In case you haven't converted to LED lighting already, PSE will replace 20 incandescent bulbs with LED, saving up to $50 per year in your electric bill. Rebates for upgrades to high efficiency gas furnaces and dryers are available, as well as conversion to Energy star appliances. Weatherstripping and cellular blinds are not part of the conservation program, but are recognized in saving energy throughout the heating and cooling seasons.
It is estimate that an average home costs $0.10 per square foot to heat in the winter time. And for every degree in temperature above 68 degrees, adds approximately 2% to your bill. Since I don't have whole house air conditioning, the power consumption statistics were not provided. However, if you are interested in learning how I converted a server cooling system into a 2 bedroom air conditioning system, email me.
Low flow plumbing fixtures are encouraged to reduce consumption and heating costs. As a result, PSE will supply 2 bathroom faucet aerators, 2 shower hears and 1 kitchen aerator as part of their visit.
It was also noted that a hot tub costs $15 to $50 per month to maintain temperature, depending on manufacturer, cover and time of year.
Solar and wind incentives are available.