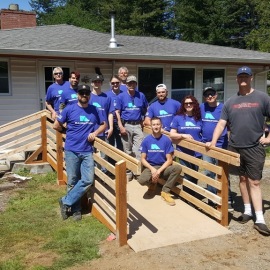 Our 25th year as ramp captain for Rampathon makes this our 29th ramp built.  This year's ramp is near Mt. Si in North Bend.  At a 2-step rise, a straight section at 15 lineal feet for a middle-aged Swede with centro nucleo myopathy: a muscle disorder that makes it difficult to walk up and down stairs.
Ryan McCurdy was this year's ramp captain, assisted by Jeff Powell, Chris Larsen, Jesse Jepson and Jamie Meredith.
Many hands makes light work. Once the compacted and rocky ground was dug deep enough to cast the posts in place, they were calibrated by a 9-year old's back side. The ledger, stringers and surface were set prior to mixing 14 bags of quick set concrete.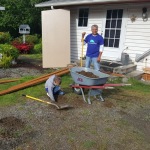 Although the saws were handled by experience professionals, everyone had a hand in assembling the various components of the ramp.
The first shovel hit the ground at 8:00AM and the last tool was put away at 12:30PM. The crew was treated to a hearty lunch at a local watering hole.
Special thanks to Dunn Lumber for their continued donation of materials to this worthy cause.