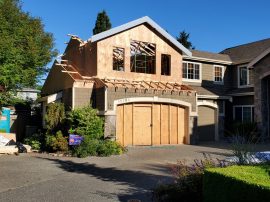 Feeling like it is more expensive than ever to improve your home? We're certainly feeling it. And these market conditions are making it difficult to accurately anticipate construction costs 3-6 months in advance.
Lumber prices are not the only expense affecting the overall costs of remodeling. International trade has a bit of a stranglehold on home improvement commodities. Copper, steel, plastics, glass and minerals are all on the rise for various reasons. Fueled by higher demand, lumber mills are unable to keep up production – causing rationing for production builders and backlogs on orders up to several months. With higher prices, comes higher cost of living – so labor costs have been on the rise as well. Even paint has gone up $1 per gallon to support a recycling plan.
Lead times for tempered glass are increasing due to the demand for new commercial buildings. Concrete is more challenging than ever to schedule for similar reasons. Electricians are considering aluminum wiring to save cost on the rising cost of copper. Roofing companies are experiencing shortages of fasteners supplied from China. Imported tile and other building products are being held up in customs at various U.S. ports. Manufacturers have been at 50% production due to social distancing requirements in their factories.
Budgeting your next remodeling project is based on total costs of similar project + 15%. That is to say the kitchen you could have remodeled last year for $100,000 is likely going to be $115,000 this year. The curve is likely not to be as steep for the following year, perhaps $120,000 or so.
There may be light at the end of the tunnel. Mills are expected to generate a surplus of soft wood lumber and plywood as Canada's border loosens up this summer. By Q1 of 2022, we may see a stabilization of the supply/demand for construction materials across the board.