Design v.
1. Creating a detailed plan of something.
2. To do or plan (something) with a specific purpose or intention in mind.
The most critical element of any vision is the ability to accurately represent it on paper. We value superior design as a means to building a superior product.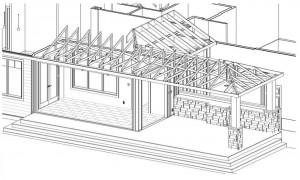 Since most people cannot visualize what the space will look like, we employ 3-dimensional software that provides the necessary perspective. Furthermore, exacting specifications and a procedural scope of work is included with design-related performances.
Conceptualization, storyboarding and scripting is integral with our design process.
When defining Design/Build in 1989, we knew that we could not build a superior product without superior documentation. We soon discovered that control of the process was the only way to manage the customer's expectations of program and budget. Employing architectural and interior designers has proven the best model for delivering expectations.