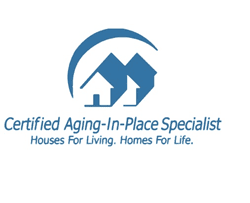 Baby-Boomers have made it plainly obvious they do not want to spend their waning days in a retirement facility. The residential construction community recognizes this and has geared up for the Aging-In-Place phenomenon.
For nearly a decade, renovation experts with the CAPS designation have been accommodating special needs while maintaining a residential sense about the home's active areas.
Flush floor plans with universal design elements are making it easier for people of all ages to function safely in their homes. Products as generic as grab bars are becoming stylized to coordinate with popular lighting and plumbing fixtures, so they have become functionally aesthetic.