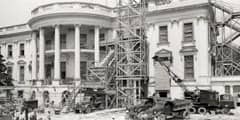 Over the years, the home has been used for different purposes.
1940's – 1960's: Rooms were relatively small and secluded. Gatherings were held in the living room or on the patio, and it was not uncommon to ask your neighbor for a cup of sugar.
1970's – 1990's: Larger common areas for entertaining made "cocooning" the term used for home-bound activities.
The 2000's have made the home function more as a "hive of activity" where technology provides for a safer and more enjoyable experiences.
What does the future hold for your home?
Today's emerging trends are shaping the future of tomorrow's household.
Accessibility
Today's homes are easier to move around in, for those who have physical limitations. The term "universal design" is often used to describe these homes because they are comfortable for people of all ages and abilities.
Healthy Design
Some buildings can literally make you sick.  The most innovative homes aren't necessarily the most unusual looking, rather the ones that provide better air quality.
Flexible Floor Plans
Large multi-purpose family areas are replacing spaces originally designated as living and dining rooms. Additionally, "bonus" rooms are being used for office space or adapted to a variety of specialized needs.
Storage
Demand for more storage space is ever increasing. Newer homes feature enormous walk-in closets, spacious dressing rooms and plenty of easy to reach built-in cabinets. Vaulted ceilings are being converted into usable space below the roof. Garages are also getting bigger to accommodate SUVs, boats and other toys.
Outdoor Rooms
Eco-friendly architecture is encouraging builders to incorporate outdoor spaces in the overall home design. The yard and garden become part of the floor plan when sliding glass doors lead to patios and decks. These outdoor 'rooms' may even include kitchens with sophisticated sinks and grills.