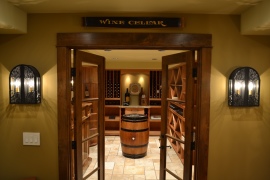 November 2017
In my experience, there are 3 types of wine consumers: Fashionable, Casual & Sophisticated. Fashionable wine drinkers don't really know what they are drinking, and purchase on an as-needed basis. Casual wine drinkers generally belong to a few wine clubs and keep a couple dozen bottles on hand for food pairings and parties. Sophisticated wine drinkers consider themselves critics and store vast quantities as consumable art.
If you consider yourself sophisticated, and free standing chillers are taking up space in your garage, perhaps it is time to consider a cellar instead.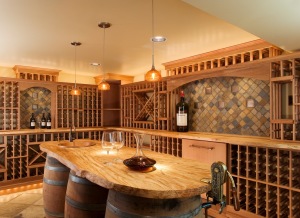 Because homes in our region are not typically equipped with a grotto, the only protection from temperature, humidity, and light fluctuations is a proper cellar. Today's technologies make it possible to provide ideal conditions in nearly any part of the house. For 200-300 bottles, consider accessing space under the stairs from the side. 500-800 bottles can be easily configured into a laundry room-sized area, and 2,000+ bottle storage can replace a main floor office off the entry.
Although it is generally best to position a wine cellar near the primary entertaining area, the appropriate location may well be in an underutilized area one or two flights of stairs away. If this is the case, then the cellar itself should become an entertainment feature in itself. With a large enough area, the cellar could include large format display, a tasting table, and/or lounge area.
So now that you've read this far, you're probably wondering what something like this costs? Because each one has its own unique set of circumstances, the total investment can vary quite a bit. The discussion generally starts around $15,000 for 300-500 bottle capacity. Duration of design and construction also vary with size, position and level of detail.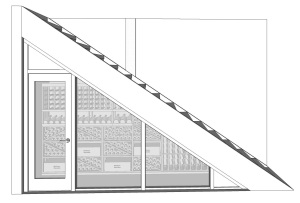 Just like the process of making wine, the crafting of a cellar can turn out in a variety of ways. The do-it-yourselfer with all the resourcefulness of the internet could outfit a cellar with relatively good layout and efficiency. However, for those who value design and experience – a professionally detailed plan is generally more palatable.
And just in case you're wondering where I fall on the spectrum: a casual consumer with sophisticated tendencies. We are surrounded by some of the finest wine makers in the world. Please join me in raising a glass to the exceptional product produced in our own back yard.