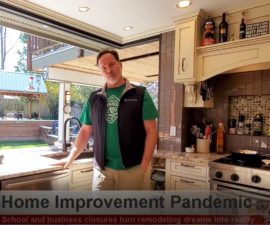 While quarantined and working from home, we find lots of time to dream about what our homes could be.
Whether your needs are upgrades, repairs or complete replacement, we have the experience to help with inspiration. And not just to accommodate today's needs, but to think through how the improvements will function as the needs change over time.
The planning phase can take a few months, so we recommend starting the process. For example, if you were to initiate contact today, we would schedule the initial consultation within 2 to 3 weeks. Following acceptance of your design agreement, the site measure would be scheduled for roughly 4-6 weeks out.
This is a kitchen addition that allows for a cornerless corner folding window system.
A 3-foot addition makes the kitchen feel double the size, and adds lots of features like added storage, improved lighting and fun personality. Inset cabinetry with creme and chocolate glazed cabinetry is accented by granite countertops and glass tile in a vertical subway pattern.
We can engage with design concepts over the phone or in a virtual meeting.
As we all go through this challenging time, we encourage you to maintain a glass half-full attitude and wish you all a happy and healthy St. Patrick's Day.