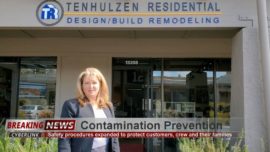 There is no substitute for having extra time.
Our customers are enjoying being able to focus on the improvements to their homes. Virtual meeting platforms give us the flexibility to continue the design process without risk of cross-contamination. Although most of our world is planning to shut down, we will continue to operate our pre-production process in effort to be ready to start construction when given permission to do so.
Zoom has proven to be a wonderful platform to convey the design process. By sharing a screen, the two and three dimensional layouts are displayed in an interactive way.
Even materials are being selected on-screen. For the tactile confirmation of finish materials, we are comfortable delivering to our customer's doorsteps.
Our entire team is excited to maintain our design process performance throughout the next few weeks.