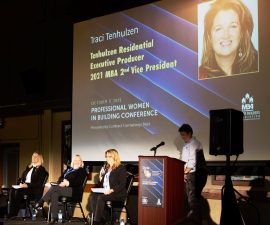 October 7, 2021
Traci Tenhulzen was asked to speak as a panelist for the Professional Women In Building Council at the Master Builders Association of King & Snohomish Counties (MBA-KS).
Introduced as the 2nd VP, she will be President of the MBA-KS in 2023, she answered questions about leadership in the building industry and offered experiential stories.
Traci began her career as owner of a construction site safety consultant. Her experience was predominately advising and training construction crews how to avoid costly safety violations. The art of getting a group of men to listen to a petite woman may have come from her experience as coxswain for the men's varsity crew team at WSU.
Once her son was born, Traci fell out of love with her business and became a full-time mom. But in 2009, she took over as Production Manager to help keep her husband's struggling remodeling company going. On the job training out of necessity made for a win-win situation. Traci's best quality was her ability to sell her own company, and now that she had experience behind the curtain at Tenhulzen Residential, she was more knowledgeable about what she would ultimately be selling.
The panelists were all well received, making the PWB Conference a huge success.